Warm Isostatic Laminator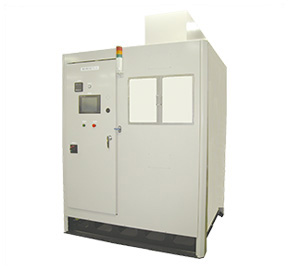 This is also known as Warm Isostatic Press (WIP). Warm Isostatic Laminator is best suited for compressing Green sheets to produce high-quality monolithic multilayer ceramic electronic components (such as MLCC, MLCI, LTCC, HTCC, MCM, Piezoelectric, Filter, Varistor, Thermistor etc.).
Delivering compressed bodies of higher quality than those manufactured by the conventional uniaxial press method, Warm Isostatic Laminators are widely used as de facto standard system.
Applications
Compression forming of MLCC
Compression forming of aluminum multilayer circuit boards
Compression forming of IC package
Compression forming of other multilayer electronic components
Compression forming of electrode layers for All-Solid-State Batteries
Features
Uniform pressurization from all directions (isostatic pressure)
Uniform temperature heating
High productivity
Uniform pressurization of specially-shaped product
Standard specifications
We are pleased to design to support special requirement in addition to the following primary specifications.
Model
Inside diameter of pressure vessel
Maximum working pressure
Maximum working temperature
WL24-26-50
WL28-45-50
WL45-50-50
φ240mm × 260mmL
φ280mm × 450mmL
φ450mm × 500mmL
49.0MPa
90°C (using water as pressurization medium), 120°C (using oil as pressurization medium)
WL32-29-200
WL38-90-200
φ320mm × 290mmL
φ380mm × 900mmL
196MPa
90°C
Demonstration equipment
A demonstration equipment is installed in our Higashi-Murayama Plant. We are always at your service.
Model with automatic sheet loading system
This is a cooperative system capable of shortening the tact time by providing the work piece set, preheating, forming positions separately.
Standard specifications
| Model | Inside diameter of pressure vessel | Maximum working pressure | Maximum working temperature |
| --- | --- | --- | --- |
| AWL32-29-200 | φ320mm × 290mm | 196MPa | 90°C |
Warm Isostatic Laminator (S series)
We have newly developed "S series"focusing on space-saving, energy-saving, and labor-saving.
S-series keep unique warm water circulating system for excellent performance
State monitor is implemented for preventive maintenance and prompt recovery from temporary stop.
Standard specifications
| Model | Inside diameter of pressure vessel | Maximum working pressure | Maximum working temperature |
| --- | --- | --- | --- |
| SWL32-29-200 | φ320mm × 290mm | 196MPa | 90°C |