Water-Conditioning Systems for Power Plants
Advanced water treatment technology supporting the power plant
Water conditioning systems utilizing Nikkiso's key technology play a part in power plant safety control. The history goes back to Japan's post-war period. Nikkiso was established in a period when power plants were being built one after another and thermal power plants with high power generation efficiency were becoming mainstream. Searching for new usages for metering pumps as a sole agent of Milton Roy in the U.S., we actively introduced information on overseas technology and emphasized the importance of boiler water treatment to electric power companies. We have made agreements for sole agency with overseas manufacturers of pH meters and dissolved oxygen analyzers, developed the precursors for a boiler water treatment system and world's first water conditioning system, and advanced products that are now delivered to most thermal and nuclear power plants.
System engineering
Based on advanced water treatment technologies, we draw on our extensive knowledge to provide to total engineering service including system planning, design, manufacturing, installation, operational adjustments for start-up, and after-sales service.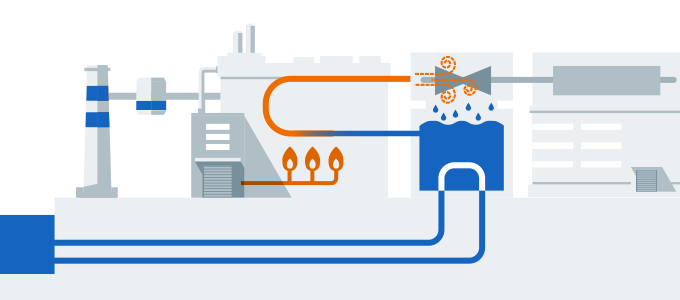 Overview of water conditioning systems
Water conditioning systems are divided into water quality monitoring and water conditioning.
The basic functions of water quality monitoring equipment are temperature decrease and decompression of high-temperature, high-pressure sample water and steam, securement of constant flow, isothermalization, flow and temperature measurement, manual analysis, measurement with a water quality analyzer, and clad and metal analysis using filters.
On the other hand, water conditioning equipment is designed to inject chemicals and oxygen to adjust and maintain the water quality within the required standard based on the results of water quality monitoring.
Automatic water conditioning system
The automatic water conditioning system exchanges signals among units to operate the devices in the water conditioning system sequentially according to plant processes (e.g. start-up, shut-down, etc.).
The system also controls the opening and closing of valves and the stroke length of chemical injection pumps by control computation.
Programmable logic controllers and one-loop controllers are used for control.
Nikkiso proposes labor and energy saving through automization, and total monitoring of thermal and nuclear plants using the system application technologies that we have developed for over 50 years.